About Us
About us
Group Leader: Pere Mato
Deputy Group Leader: Gerardo Ganis

The SFT group in the EP department develops and maintains common scientific software for the physics experiments in close collaboration with the EP experimental groups, the IT department and external HEP institutes. The majority of the group is involved in projects organised as part of the Applications Area of the LHC Computing Grid (LCG) project. In addition, several group members have direct responsibilities in the software projects of the LHC experiments. SFT projects are organised in four core areas: Simulation, Libraries and Frameworks, Systems and Joint Projects with experiments.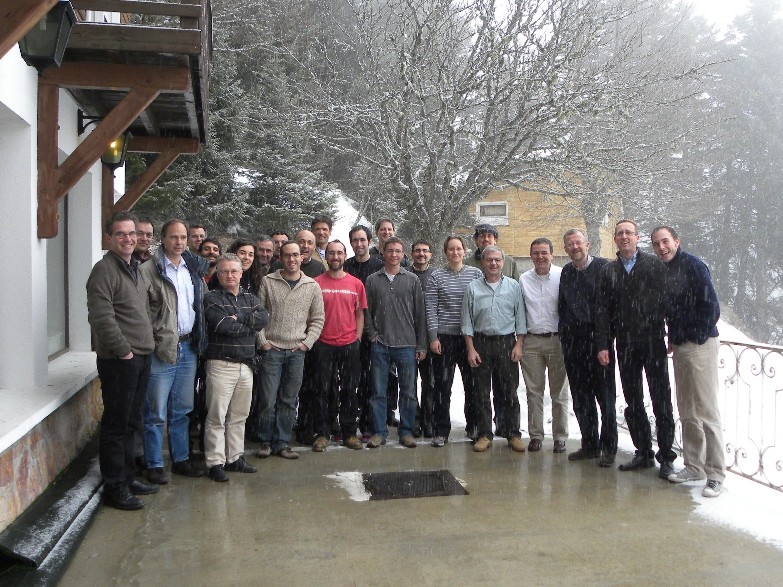 La Mainaz - March 2010
Each member of the group, except the students, dedicates 10% of her time to the baseline services provided by the group. This table summarises the tentative commitments for 2018. In case of problems, please contact the persons listed in this table.
 
| Service/Task | Main Responsible | Alternate | Documentation |
| --- | --- | --- | --- |
| Jenkins service | Shahzad Muzaffar | Gunter Folger | HowTo |
| Coverity service | Gabriele Cosmo | Axel Naumann |   |
| CDash service | Benedikt Hegner | Guilherme Amadio | HowTo  |
| Puppetized nodes | Shahzad Muzaffar | Gunter Folger |   |
| Windows nodes | Bertrand Bellenot | Gunter Folger |   |
| Mac nodes | Axel Naumann |   |   |
| Other OS nodes | Gerardo Ganis | Axel Naumann | HowTo |
| Drupal Manager | Andrea Stano |   |   |
| ITUM contact | Jakob Blomer | Graeme Stewart |   |
| C5 contact | Jakob Blomer | Enric Tejedor | HowTo |
| Jira Service | Ilias Goulas |   |   |
| Grafana | Ilias Goulas |   | HowTo |
| Training | Enric Tejedor | Danilo Piparo |   |